Time it was and what a time it was, it was. A time of innocence. A time of confidences.
Long ago it must be. I have a photograph. - Paul Simon
| | | |
| --- | --- | --- |
| Leonard P. Matlovich, son of Leonard C. and Vera Matlovich, the first boy born in Savannah, Georgia's then-new military hospital, July 6, 1943. | With Mother, Vera, and his Sister, Margaret. | As American as wanting to grow up to be a cowboy. |
| | | |
| --- | --- | --- |
| Even Donald Duck did. | | High School Prom |
| | |
| --- | --- |
| "I bore his name with pride." 19-yr. old Leonard P. Matlovich at his Air Force induction witnessed by his father Leonard C. Matlovich, a 30+ yr. USAF veteran. | One of his many commendations. |
Receiving the Bronze Star in Vietnam for risking his life to repair base security lighting under nighttime enemy fire.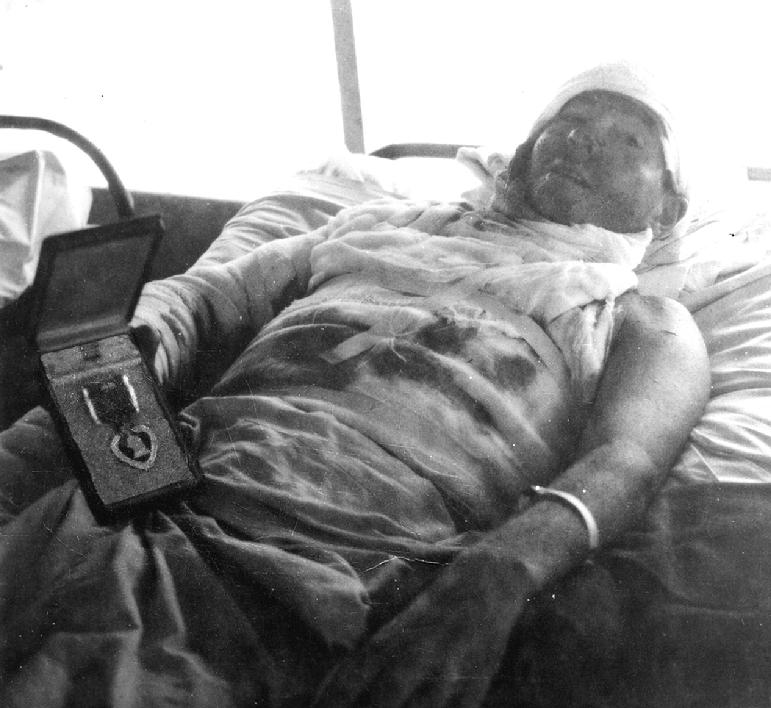 Nearly killed by a landmine, he was hospitalized for months, and still had pieces of shrapnel in him for the rest of his life.
The First Time Any Out Gay Service Member Appeared on Television.
Obviously nervous, Leonard quickly developed an ease on camera that was
one of the reasons
mainstream media interviewed him repeatedly.
| | | |
| --- | --- | --- |
| June 29th, 1975. With his mentor, movement legend Frank Kameny, in New York's Gay Pride Parade. | Rally following NY parade with Pfc. Barbara Randolph & her lover Pvt. Debbie Watson who had outed themselves during a vicious lesbian witch hunt at Fort Devins, Massachusetts, becoming the first women to challenge the military's ban. | At the rally with Bruce Voeller, cofounder of the National Gay Task Force, who arranged for Leonard's famous appearance on the cover of "Time" magazine. ["Gay" did not just apply to men, but Lesbian was added to their title in 1986.] |
"Leonard Matlovich surveyed the throng with wonder. How had he allowed so much of his life to be wasted in loneliness.
A cheer rose from the crowd when Matlovich delivered the line he had used in every newspaper and television interview since his case went public. With him were the other heroes of the moment: Staff Sgt. Skip Keith, Barbara Randolph and Debbie Watson.
When the four of them stood side by side at the microphone, waving to the crowd that billowed through Central Park,a huge ovation rose up and it felt as if their spirits had also lifted into the air and soared over the city's skylines.
It was a moment Leonard would cherish for the rest of his life."
– Randy Shilts,
Conduct Unbecoming
.
The first gay active duty military contingent ever to appear in a gay pride event.
Man on left in plaid shirt was Navy veteran Bill Bland, then the partner of NGTF head Bruce Voeller.
"Leonard Matlovich's appearance on the cover of Time magazine in 1975 was a ray of hope for kids like me living in a very dark time."
- Bruce DeMara, The Toronto Star
| | |
| --- | --- |
| The first named gay person ever on the cover of a mainstream magazine. | Some letters to the editor the following week. |
"I didn't know Leonard, but I knew his story when I was in high school. He was the first openly gay person I had ever heard about. That article in Time changed my life. For the first time, an intelligent, articulate, and accomplished gay person was speaking out against the injustice we face everyday. He was the first gay person who gave me permission to feel good about who I was. I came out my first year in college, shortly after the article was published. Along with Harvey Milk, he inspired me to live my life out and proud and also my activism in our struggle for equality."
– "lacrosselamore," The Huffington Post, May 12, 2012
| | | |
| --- | --- | --- |
| September 19, 1975. With his attorneys David Addlestone and Susan Hewman after being told that he is to be discharged solely for being gay. | Holding a Kennedy Bicentennial half dollar, Leonard says to the press, "It says '200 Years of Freedom'. Maybe not in my lifetime but we are going to win in the end." The coin also shows Philadelphia's Independence Hall where his mentor Frank Kameny first led a gay equality demonstration in 1965. | Surrounded by well-wishers. Perhaps because of his reputation as an outstanding Race Relations Instructor, some of his strongest supporters were black airmen. |
"Are you really gay?"
– Reporter to Leonard during press conference at Southern Illinois University, November 1975
In addition to all the networks, there were many local interviews, too. Right before the start of one, he reached over to help the host adjust his microphone. Suddenly the "ON AIR" light went on & the host swatted the TIME magazine at him, saying, "Get away from me!" Leonard thought it was hysterical.

One of "People" magazine's "25 Most Intriguing People of 1975."

1975 speaking tour.
| | | |
| --- | --- | --- |
| Leonard and another man dancing was a popular subject for mainstream media. | Newspapers of all sizes followed his story. This was from the Charleston, West Virginia "Daily Mail." | DC's highly respected Gertrude Stein Democratic Club grew out of this event. |
Photo by Leonard's close friend, Brandon Wolf.
| | |
| --- | --- |
| June 7, 1977. "Anita Bryant was pronouncing victory. 'Tonight the laws of God and the cultural values of man have been vindicated. The people of Dade County—the normal majority—have said enough is enough. We will now carry our fight against similar laws throughout the nation that attempt to legitimize a lifestyle that is both perverse and dangerous to the sanctity of the family, dangerous to our children, dangerous to our freedom of religion and freedom of choice, dangerous to our survival as one nation under God." Across town, Leonard Matlovich [was] trying to encourage a listless crowd. No one had expected the night to end in a landslide loss for gay rights. He did not know what to say. His eye fell on a large American flag standing to the side of the ballroom stage. He removed it from its stand and held it up to the crowd and reminded them that America stood for justice and that justice would prevail. ...and the crowd in front of him joined hands, singing, We Shall Overcome." – Randy Shilts, Conduct Unbecoming. | |
Throughout the rest of 1977, Leonard traveled the country telling everyone that the success of the Anita Bryant forces in Miami must not stop the fight for equality. This was Chicago's Gay Pride Rally in Daley Plaza. Behind him were longtime Community leaders Bill Kelley and Chuck Renslow. [Tip of the hat to JD Doyle.]
"None could argue that the ideal gay version of [the] common man was Matlovich himself."
- The Advocate, July 8, 1977
While sometimes struggling financially himself after sacrificing his Air Force career, he never said no to any group who asked him to help them raise money.
| | |
| --- | --- |
| With late movement icon Barbara Gittings. Photo by her partner of 46 years, Kay Tobin Lahusen. | 1977. Leonard may be the only gay activist ever photographed sitting at the President's desk in the Oval Office. 10 years later he would return in a different way. |
"We defeated the Briggs Initiative partly because we were able to get people like Leonard on board."
- Rev. Troy Perry, founder Metropolitan Community Church
1978. With his close friend the Rev. Troy Perry, legendary founder of the Metropolitan Community Church, barnstorming the country to fight Prop 6 which would have banned gay teachers in California, one of many battles they fought side-by-side. Nine years later they would speak Truth to Power together in front of the White House.

Despite its excellence, many leave the film Milk believing that no one else was leading the fight against the Briggs Initiative. In fact, there were several others as reported in a 1978 article in Houston's Upfront newspaper about fundraisers there:

"Leonard Matlovich, Del Martin, and Rev. Troy Perry have come from California and Dave Kopay from Washington, D.C., as official representatives of the No-On-Six organization in California, which is combating passage of Proposition 6. The four activists will be spearheading two days of activities here in Houston, organized as the No-On-Six Weekend."



1978 San Francisco Gay Pride Parade; Alice B. Toklas Democratic Club float. Behind Leonard: future SF mayors Willie Brown and Art Agnos. Photo courtesy of Leonard's close friend, Hugh Guilbeau, center left, bottom, in sunglasses.
Sergeant Matlovich vs. the U.S. Air Force
NBC-1978. The first made-for-TV movie about a living gay person. The producers meant well but Brad Dourif, Golden Globe-winning/Oscar-nominated actor for One Flew Over the Cuckoo's Nest, was dryly directed, thus, capturing none of Leonard's charisma. Rue McClanahan, later to costar in the popular TV series "The Golden Girls," played Leonard's Mother, Vera.

"He could be your next-door neighbor, a mechanic, accountant or the family doctor. He wants what you want: a decent job, a comfortable home, love. His name is Leonard Matlovich andhe's one of the country's most controversial homosexuals. Today scores of Americans—gay and straight—are following the case of Matlovich vs. the Air Force through the courts in a challenge to the military's long-standing ban against homosexuals."
– Associated Press, September 1978
| | |
| --- | --- |
| Leonard among mourners of Harvey Milk in rotunda of San Francisco's City Hall. | Helping Community United Against Violence leaflet. |
| | |
| --- | --- |
| | THE SPADA REPORT, ©1979, Part Six: On Being Gay, Page 315: "It has been an experience I wouldn't trade for all the accepted cultural security you could offer me. Anytime now that I get scared, I think of my friend Leonard Matlovich." |
| | | |
| --- | --- | --- |
| With friend Michael Middleton in San Francisco. | 1984 The Louvre | 1984 Berlin Wall |
"D.C. police wearing long yellow rubber gloves arrested 64 demonstrators after the group blocked traffic on Pennsylvania Avenue in front of the White House to protest the Reagan administration's AIDS policies. The administration's policies were also the focus of protests at the Washington Hilton hotel, where more than 6,000 researchers have gathered for the Third International Conference on AIDS. A number of participants booed Vice President Bush after he endorsed President Reagan's call for expanded AIDS testing. As he returned to his seat, Bush asked Assistant Health Secretary Robert E. Windom, 'Who was that, some gay group out there'?

The protest, which began with a four-block march from a downtown church, past gaping tourists and construction workers, was sponsored by a coalition of AIDS groups whose members are attending the international conference.

The estimated 350 people who gathered at Lafayette Park in the wilting noon heat said they were protesting a lack of funding for AIDS research and the slow pace of federal education programs.



Among those arrested was Leonard P. Matlovich, a former Air Force sergeant who was expelled from the service in 1975 after admitting his homosexuality. Matlovich, who recently learned he has AIDS, wore his old Air Force jacket decorated with a Purple Heart and Bronze Star and clutched a small American flag as police handcuffed him.""

- The Washington Post

, June 2, 1987




Photo by JEB
| | |
| --- | --- |
| Leonard & the Rev. Troy Perry before arrest. | Signatures of some of those arrested collected by Deacon Maccubbin, founder of Lambda Rising bookstore. [Property of Rainbow History Project, DC] |
| | |
| --- | --- |
| The government's passive genocide wasn't our only enemy in 1987. The same year, Leonard exposed the ignorant bigotry of Northwest Airlines who refused to fly anyone with AIDS. Within a short time after he and Ken McPherson (center) confronted them in front of TV cameras, NWA changed their policy. | San Francisco 1987. John Molinari for Mayor rally. |
"He made a stellar contribution to the movement for lesbian and gay rights." - Bay Area Reporter
His caisson rolled through the streets of the nation's capital.
Fellow ban victims Perry Watkins and Ellen Nesbitt, and Leonard's inspiration and mentor Movement Icon Frank Kameny spoke at the graveside service.
| | |
| --- | --- |
| Head of Air Force Honor Guard gives Leonard final salute. | And presents American flag to Leonard's Mother. |








There are at least 11
different AIDS Quilt
panels for Leonard.

Here are 6 of them
in the slide show
on the right preceded
by a photo of
his treasured
friend Joe Ferrari
carrying an
American flag
memorial in
LA's Gay Pride Parade
just 4 days after
Leonard's death
that became
the panel in
the first Quilt
section shown.



Other photos to come including Leonard with Dave Kopay, author Studs Terkel, and others, along with videos of appearances on Nightline, The Larry King Show, et al....
---

© LeonardMatlovich.com 2009. All Rights Reserved.